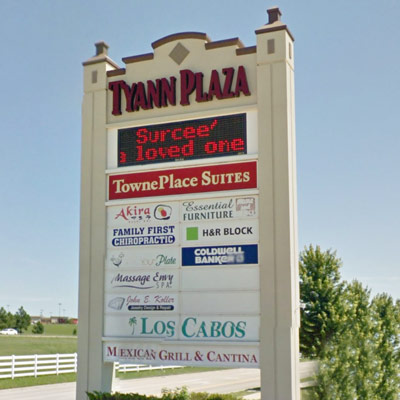 With highway frontage, the locally owned Tyann Plaza shopping center is seen by 56,000 cars per day from US 169, and 17,000 cars per day from 96th Street, making the area highly sought after for many businesses, large and small. As a suburb of Tulsa, Owasso has seen exponential growth in recent years as new businesses and residents take notice of the area. If you are in the area, we invite you to visit some of Owasso's finest retailers, service providers and restaurants to see how your business could benefit from making its home at Tyann Plaza.
The shopping center has a total of 49,950 square feet, with a strong tenant roster including Los Cabo's, Surcee Gifts, State Farm, Akira, The Steel Horse, John Koller Jewelry Designs, Summit Physical Therapy, Peak Nutrition, Coldwell Banker, First United Bank & Trust, Massage Envy, Another Chapter Book Store, Merle Norman, and Titan Title. With the variety of stores and restaurants available at Tyann Plaza, our location has become a favorite for many visitors to the Owasso area.
With experience meeting the diverse needs of our tenants, Tyann Plaza is the perfect location for your business. Please feel free to contact our friendly staff by telephone or email if you have any further questions concerning our available properties. We look forward to helping your business succeed at this prime real estate location in Owasso!